If you want people to use (and love) your software, they need to know who you are. The more packed your space, the harder it is to get noticed. And, to put it mildly, the project management software space is pretty full — Asana, Monday, ClickUp, Wrike and about 400 others are all competing for customers. 
A company is faced with a choice in a space like this. They could try and appeal to everyone through a broad range of features that can work for any team in any business. Or they could differentiate and focus on one specific kind of need. 
Teamwork did the latter — in a space teeming with generalists, they specialized. This groundwork, laid down all the way back at the company's founding and championed by every team since, is the bedrock that helped us increase conversions by 54%.  (And run plenty of other winning A/B tests.) But before we get into the specifics, let's start with a bit of history. 
Before the company officially kicked off as a project management (PM) solution all the way back in 2007, they were a design and development agency. And that agency desperately needed a great PM tool specifically built for client work. They couldn't find anything. So, as all good founding stories go, Peter Coppinger and Daniel Mackey built Teamwork. 
That was then. Today, Teamwork is a full-suite project and team management solution for client service teams with over 17,000 paying customers. But despite the growth, it's never forgotten its roots: helping client service teams manage every project as efficiently and effectively as possible. Everything — from product and feature development to marketing — is built with that in mind. 
Over the past year (and a bit), we've been working with the marketing and growth teams to optimize Teamwork's  entire customer journey so that this key, foundational mission feels crystal clear. 
Together, we transformed key pages like:
The homepage (with the most recent variation

increasing ICP qualified leads conversion rate 7X

)

Strategic landing pages with the highest traffic after the homepage (resulting in a 

172% increase in signups

of Teamwork's most valuable clients) 

Key buyer journey pages like the comparison pages, solution pages, website menu, and main site navigation.
Below, we're going to focus on one test and everything we learned from it. 
The Challenge — Increasing conversions where it mattered most
Tara Robertson joined Teamwork as their Chief Marketing Officer in January 2021 and spotted a key opportunity:
When I joined Teamwork, our overall focus was on driving trials and monthly qualified leads (MQLs). These were the main KPIs within the marketing department. One of the first things I wanted to do as CMO was to start tying marketing activities to actual revenue. I wanted to ensure we were focusing on the right things and driving the right results across the board.
Some of the pieces for this were already in place. Teamwork's product team had just wrapped up an in-depth research project to help them really get to know the needs and pains of the ideal buyer. But product and marketing research are a little different. That's why Tara and her team had to do some extra research to help pinpoint Teamwork's ideal customer profiles (ICPs) through the early acquisition journey. 
Knowing who they were targeting was the first step to creating messaging that would resonate with their target buyers. The next step was to update the brand's positioning internally and externally so they could begin optimizing the entire website for conversions.
A CRO program that could measure it all 
As part of this shift in messaging, Teamwork needed to build out a formalized CRO program that could support (and measure!) all the marketing efforts. That's when Tara reached out to Getuplift:
One of the reasons we chose Getuplift was that they've got a true and tested background in conversion rate optimization. They've really worked on building better results across a lot of the things we wanted to do, starting with our website. Their research-driven approach could help us really understand who our customers are and why they chose us. A lot of Getuplift's focus is not just on the quantitative but also the qualitative.
The Solution — Setting up the right foundation
Like with any other CRO project, building out Teamwork's CRO program started with the research: we had to get inside the minds of Teamwork's ICP. Only then could we figure out what practical (and emotional) factors drove their decision to buy. (This step is a critical component of our emotional marketing framework.)
We started off with customer research — i.e. running and analyzing customer surveys and website visitor surveys. And, of course, directly talking to Teamwork's best customers so we could understand exactly what they needed. 
During this phase, we discovered that comparing PM solutions to each other was a key step in the buyer's journey. And we're not talking about soft comparison here: this was hardcore, feature by feature, painstaking comparison. 
Switching project management solutions is no easy task.  Anyone seriously thinking about switching tends to approach things methodically. The process looks a bit like this:
1) The "searcher" (the person charged with figuring out what project management software to try) speaks to folks on the team and figures out what functionality they absolutely need, what functionality they'd like to have, and what's just a dreamy wish-list item.
2) They then take this list, refine it into something "sensible" they can actually find, and start looking for tools that fit this (usually by asking friends, communities, colleagues, or doing a quick Google Search for top tools).
3) After coming up with a shortlist, they basically do a feature comparison. The software tools that have the necessary features then get compared against each other (by price, by who is using them etc.) But they have to pass the features test.
Hardcore comparisons were a key part of that process because leaders want to be absolutely certain they're making the right choice.
And to increase conversions (and serve customers better) we had to help customers do just that. This brings us to the comparison pages. 
Making customers' lives easier, one cool comparison table at a time
The old comparison pages had a problem: even if you ended up on one of them, they didn't clearly allow you to compare everything feature vs feature. This had to change. 
We started with the Wrike vs Teamwork page — a popular page, for a popular tool. First, we got to know Wrike as well as we knew Teamwork. We ran an in-depth market and business analysis covering:
The complete market positioning — from the Citrix acquisition (and changes) to how the team spoke about the product on and off-line, to any key competitive advantages

Wrike's target audience — including any overlaps

A complete product evaluation including customer experience

A breakdown of the pricing, sales and marketing strategy
This analysis helped us understand what set Teamwork and Wrike apart from each other.  One of the major discoveries from this research was that Teamwork's greatest strengths were having the best customer support in the business and having a differentiated strategy that focused on a specific industry rather than trying to put all eggs into one basket. 
The old page, which you're about to see, did not put any of that across: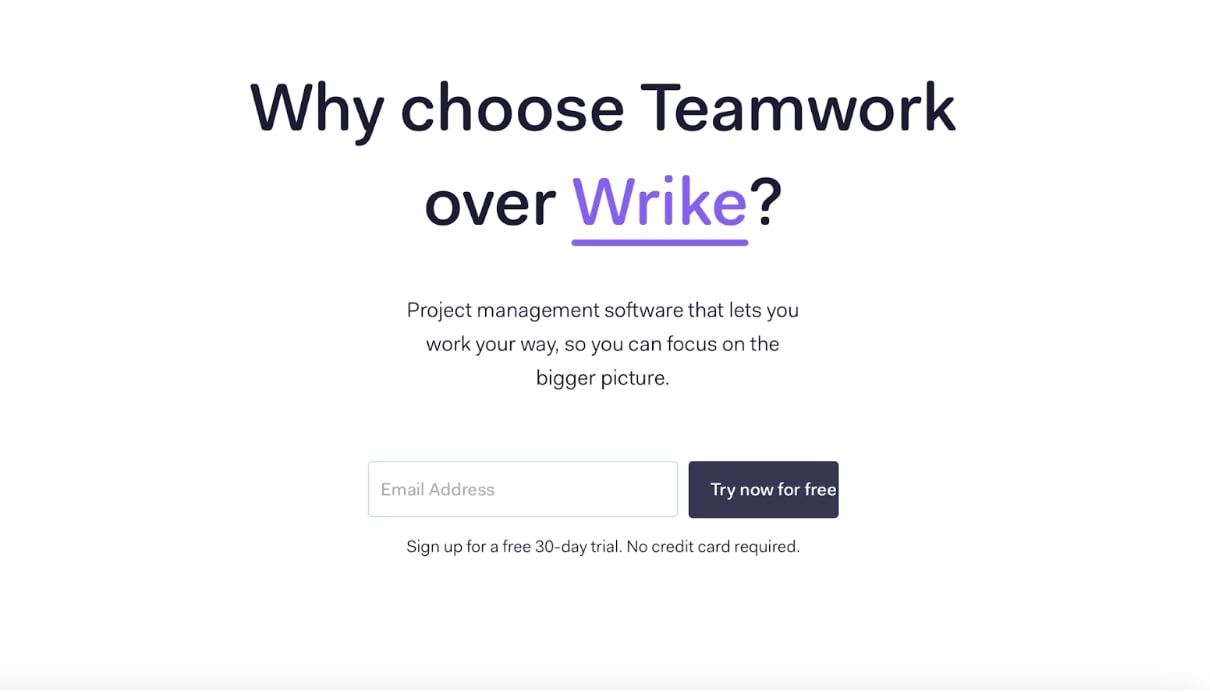 The new page does. It highlights Teamwork's strengths and differences as honestly and openly as possible. 
The biggest change we made was adding a clear, side-by-side comparison table that lets you compare Wrike and Teamwork feature by feature without having to jump back and forth.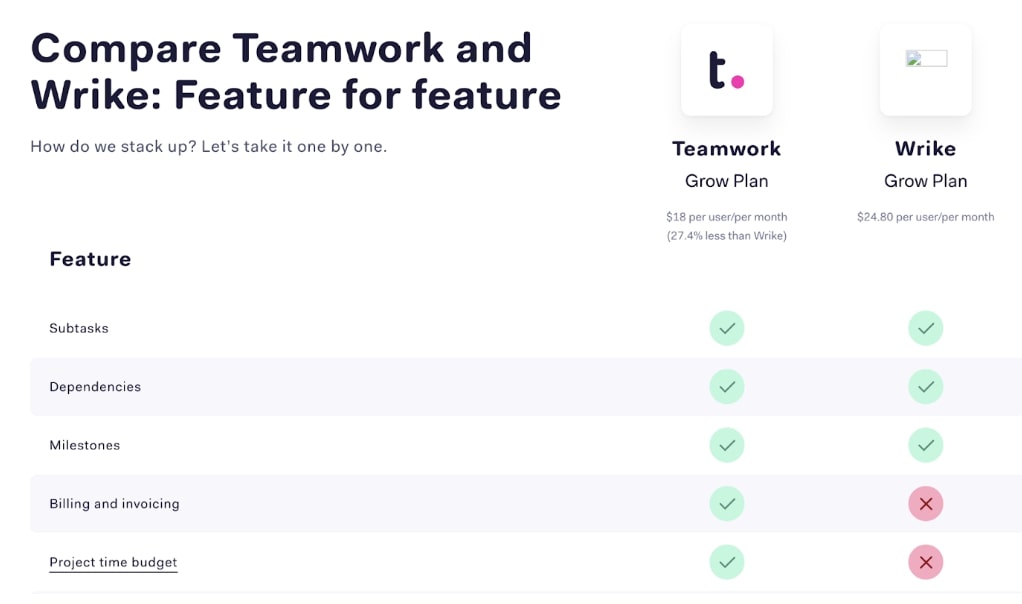 The Results — How stepping into ICP's shoes led to a 54% increase in conversions
There's something very interesting about comparison pages. Most of the time, they feel like one dimensional 'we're the best woo hoo' parties. While this can feel cool when it's your team doing it, it's not very useful for customers who are actually trying to understand the difference between you and the competition. 
With the Teamwork comparison pages, we focused on being as useful and practical as possible. (With just a little touch of 'woo hoo, we're awesome' in there for good measure.) 
The results speak for themselves — the new comparison page led to a 54% increase in organic traffic conversions. We took the most direct route from point A to point B and people responded. And that was just the beginning. 
So much more than a one trick pony
CRO research is not something you use on one project and forget about. When done (and used) well, it can impact multiple initiatives. Tara says this better than we can, so we'll give her the mic:
The research GetUplift did helped us provide the sales team with competitive differentiators they can mention during conversations with prospects. They better understand Teamwork's standout features for our ICP.
Not to be outdone by sales, the marketing team has been using the research to further improve Teamwork's overall marketing strategy.
We had some external research that we had done prior to Getuplift joining. That research focused on our unaided awareness in the market and really understanding our ideal customer profile. The additional work GetUplift brought in focused on how we could connect with our ICP and how we could drive building the right messaging into our overall marketing. That information is something we used well beyond just what we worked on with GetUplift. All of our marketing team still goes back and reads a lot of the initial research they did.
Also, Getuplift didn't feel like an external agency executing a conversion optimization project. They felt like part of Teamwork's family. 
The GetUplift team has incredible attention to detail and they are really great at being able to also challenge our team with what we need. They're a partner. They work as an embedded team within the marketing department. I don't feel like GetUplift is an agency working alongside us. They're in our chat and involved in the day-to-day working on our projects. They've embedded themselves in working with our team collectively and really building up the relationships. They are working as if they're in-house. We weren't really looking for just somebody to go and execute the work. We were looking for a partner who can help fill a void for what we don't have in-house.
Increasing conversions by focusing on what customers care about
If we had to sum it up, this is what emotional targeting is all about. It's about not being afraid to show your customers what they need to know — and what they're looking for. 
In the project management space, people are always comparing. A strong set of comparison pages can give B2B companies a competitive edge in a crowded market. 
But too many B2B companies treat the competition as they who must not be named. As if the mere act will drive customers into their arms. 
It won't. And running the emotional marketing strategy (and research) can show you that — and it can show other key opportunities too. Emotions matter in B2B marketing.
Curious about how comparison pages can help in your B2B conversion optimization strategy? Get in touch and we'll discuss how Getuplift can help your team achieve results. 
GetUplift has worked on building results across everything we do.
Their research-driven approach helped us really understand who our customers are and why they choose us. We've seen 172% increase in signups from our most valuable pages and 7X increase from our homepage alone.
Facebook Comments
comments
Powered by Facebook Comments