Talia Wolf – Digital Marketing Speaker
"Talia is one of the most experienced optimizers I know on this planet. And she is a hell of a good speaker."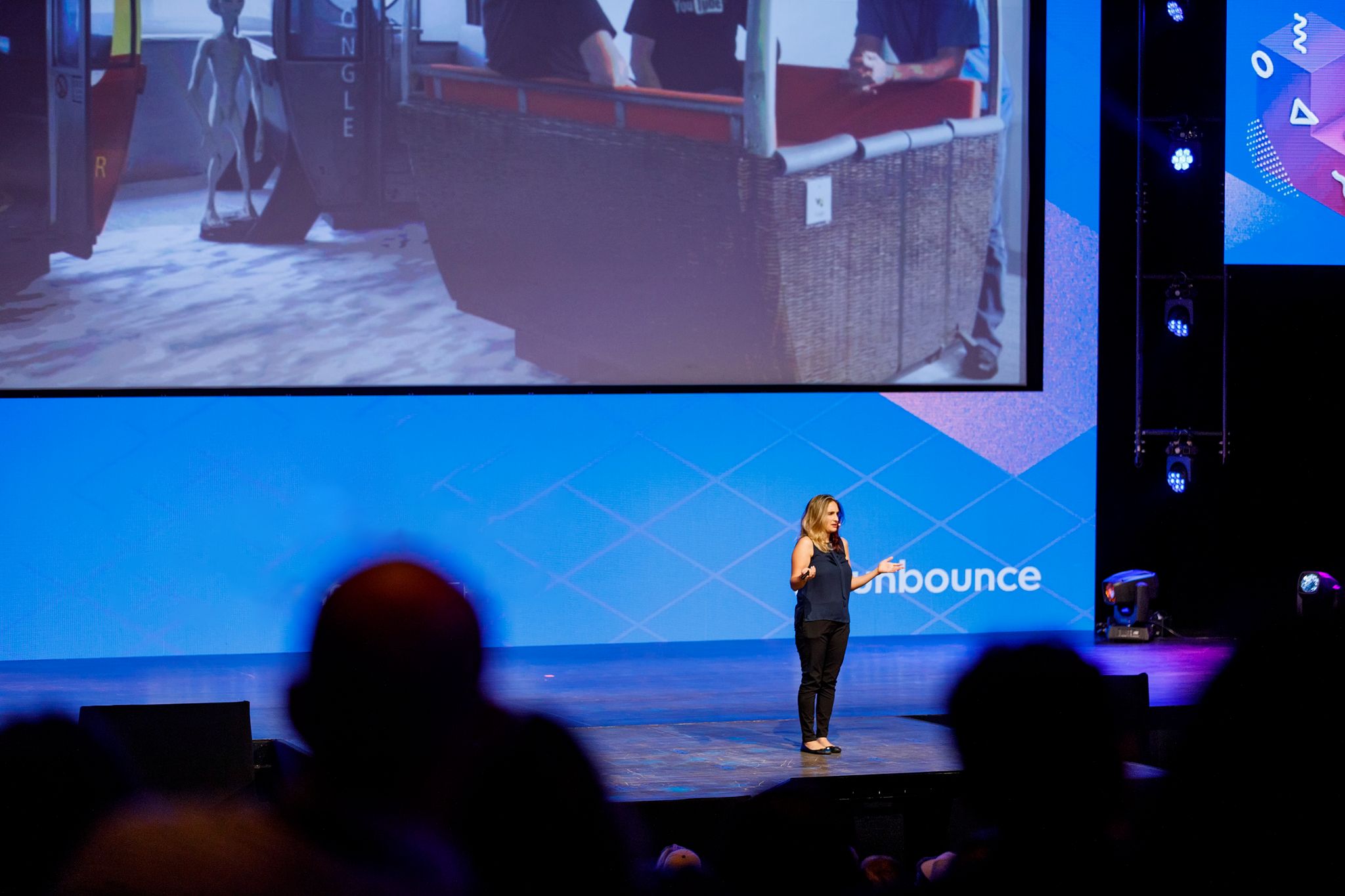 Talia Wolf – Digital Marketing Speaker
Talia is one of the most experienced optimizers I know on this planet. And she is a hell of a good speaker."
Talia's taught her methodology on hundreds of stages








Ready to show your people how to – painlessly and consistently – increase conversions? Let's do it.
Everything Talia shares is a mix of strategy and practical tactics, grounded in the work Talia and her team do every day. With all the dull parts cut out.
If you want the kind of speaker that blends humor,
education and actionable information…
"Talia is one of the rare speakers who can simultaneously command a room, provide unique, actionable information, and maintain humor, humility, and entertainment throughout."
Makes your audience's success her goals…
"Talia spoke at our conference, and she pulled one of the boldest moves I've seen a speaker make. She turned her session into a live workshop with a *very* lucky attendee. Talia is not only an original, talented (and very charming) speaker, she's also the purest form of entrepreneur"
…Makes learning easy and enjoyable…
"Talia is the most authoritative, experienced & knowledgeable Conversion specialists I know. She makes it easy and enjoyable for entire crowds to learn. Talia will take your conversion skills to the next level."
...Effortlessly shares practical tactics that increase your ROI…
"I completely changed our Facebook ads strategy and in less than 24 hours, I'm already seeing 500% ROI from new campaigns."
…Makes you want to take action…
"I've seen Talia present a few times, each time I walk away having head smacking moments, where things that have been staring me in the face for years that could help my business have been ignored. She makes me want to go fix things that I know make sense for me and my business."
…Constantly drops AHA moments…
"Talia's emotional targeting approach helps her bring in consistently strong results for her clients and brings new AHA moments to those lucky enough to see her speak at marketing conferences worldwide."
…AND instantly connects with your audience…
"Talia has proven to be one of the smartest and authoritative conversion specialists in the industry… The feedback from attendees has been incredible with many actionable and easy to implement processes. If you have the opportunity to have Talia speak, you should do it immediately."
Then it's time to book Talia for your next marketing, growth or CRO-focused event or team training.
Want a speaker who's travelled the world, inspiring audiences with fun, relevant presentations? You've got it. Talia's spoken at hundreds of marketing conferences, exclusive events and private masterminds. And people like it: Talia's been rated as a top speaker at all her speaking engagements. And  was voted one of the most influential voices in conversion optimization.
"Talia gave a great presentation for Growth Marketing SUMMIT 2017. She is one of the most experienced optimizers I know on this planet and additionally she is a hell of a good speaker. She scored #1 and our audience asked to have her again."
Hoping for a private intensive conversion optimization training for your team?
Talia's led custom workshops for the teams at Shutterstock, IDG, Symantec and many others.
"When I first asked Talia to run a workshop for our Creative and UX team, I had no idea it would be so insightful. We needed a better optimization strategy across teams, and I knew Talia was one of the best people in the space to help us. But her delivery – the detailed way in which she walked us through the Emotional Framework and the strategy behind it – was exceptional. The room was full of 'aha' moments. And the Q&A session at the end of the workshop was super interesting and informative. This training is perfect for any growing marketing team dealing with conversion optimization." 
Experience one of the most popular keynotes for yourself: Creating experiences people love to convert to.
Learn how to get into your prospect's head, and create websites and funnels they love to convert to. 
In this session, Talia breaks down the framework she uses to optimize her clients' websites, funnels and email sequences using psychology, emotion and persuasion.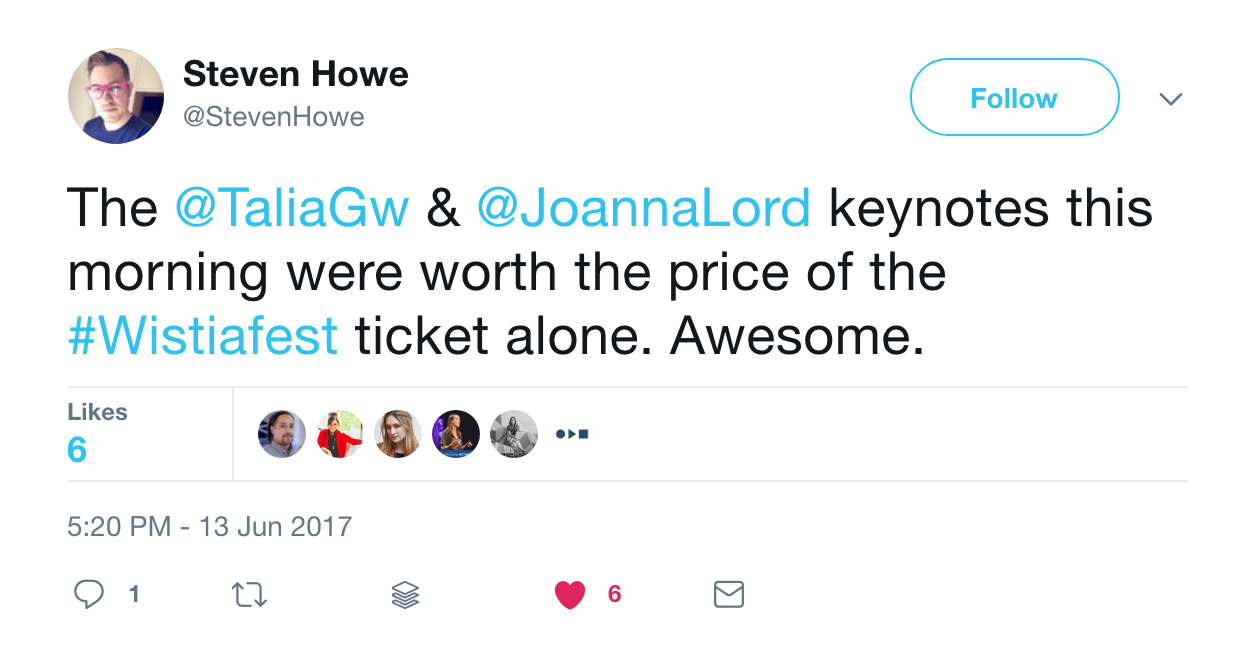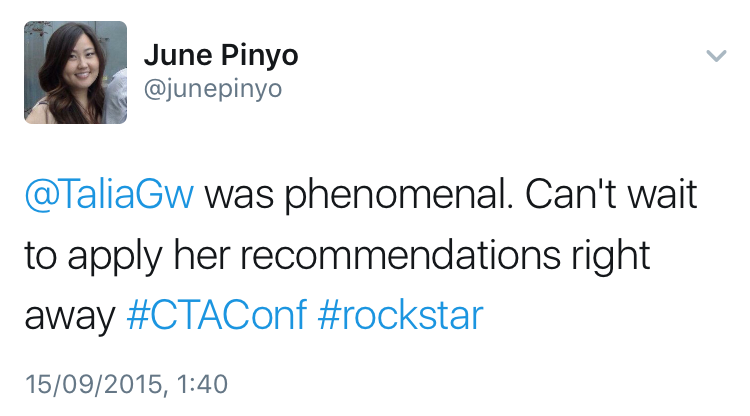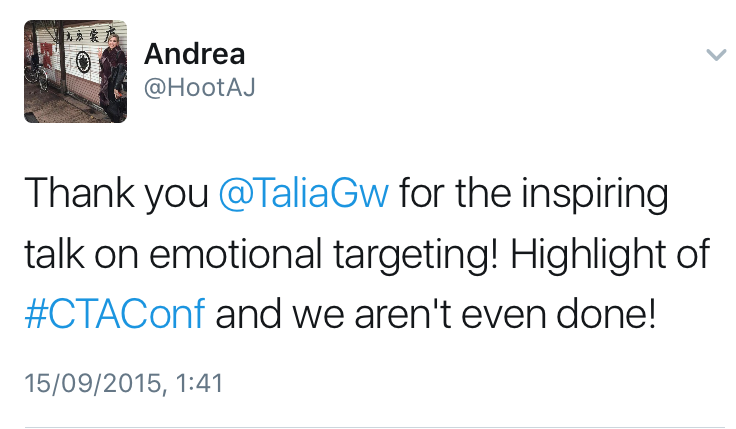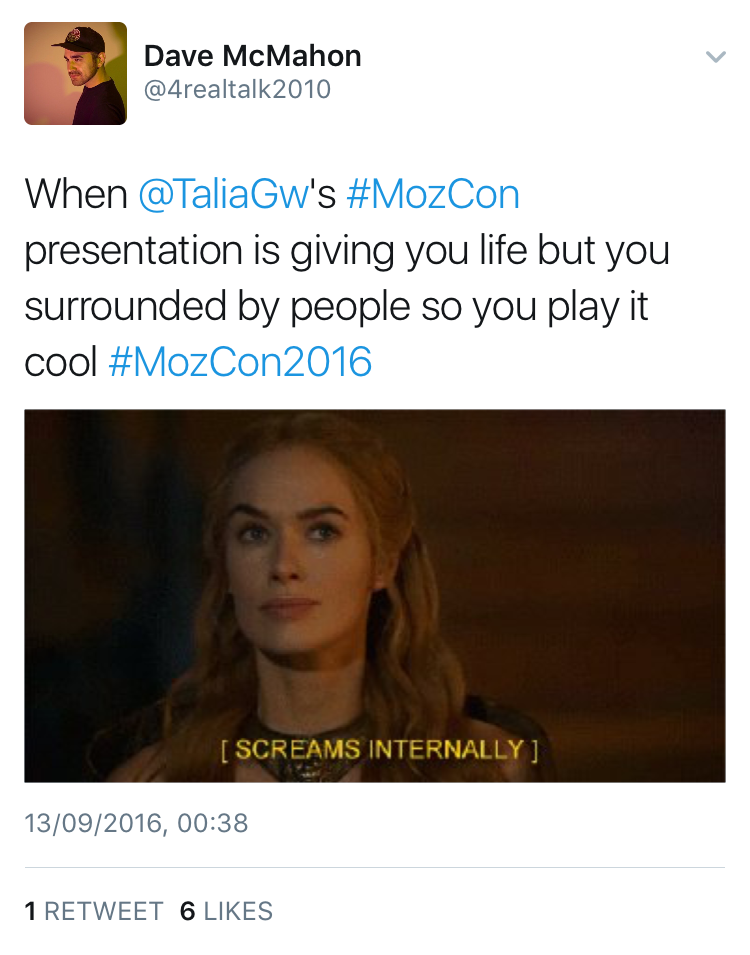 "Emotionally involving, on-point, concise and ACTIONABLE information from Talia. Best seminar I've attended in a very long while – OK, EVER."
"Talia was engaging and shared interesting examples. Her advice is actionable…I'm putting the tips into practice immediately."
"Talia showed specific formulas we can apply…The exact steps to find the WHYs and how to apply them to the content and design of a landing page"
"Super actionable. Loved the clarity!"
Custom presentations on conversion-focused design, emotional optimization, persuasive funnels that drive more leads and sales, mobile optimization, creating irresistible landing pages, building unshakable relationships through retention funnels and more. 
Fill out the form below and we'll get back to you shortly.