With 500 hours of content uploaded every single minute to YouTube, and the fact that 70% of the videos you watch, are influenced by YouTube's AI recommendation engine (according to its CPO), it's no wonder why it's so hard to get more views on Youtube.
So while you may have followed everyone's advice to create a YouTube channel and maybe even recorded a bunch of kick-ass videos and published them one by one to the world…
This is a familiar sound on your channel…
Yes, YouTube can be a huge driver of sales, traffic and conversions… but just like every other type of content you create, 20% of the work is creating the content and 80% of it is actually promoting it.
The competition for views on YouTube is fierce, however, there are a few tactics and tips you can follow that will help you get more views on Youtube videos, and that's exactly what this guide is for.
In this guide, I'm going to lay out 9 super-actionable steps that will help you get more views on YouTube. Proven and tested tactics you can execute in a matter of minutes and see immediate results from.
Navigate your way through this guide:
Let's get started!
---
#1 How to create Youtube thumbnails that drive high CTR
If you're struggling to get views, you may not be leveraging one of the most crucial elements of your videos to its full extent: The thumbnail (maybe you're ignoring custom thumbnails all together?😳).
For the sake of clarity and making sure we're on the same page, here's an example of a video NOT using a custom thumbnail (sorry Nick!)
And here's an example of a video that IS using a custom thumbnail.
So what's wrong with the first example?
Looking at it, you won't be able to tell what it's about without reading the title of the video.
On the contrary, a quick glance at the thumbnail of the second example clearly tells you what it's about.
The second example is also more eye-catching, and that's a must have when your video's fighting for attention alongside so many others on YouTube.
If you're already using custom thumbnails on your videos, let's get real for a moment: Is it done as an afterthought?
Is it one of the last things you do (perhaps even something you suddenly remember to do while waiting for your video to upload)?
Here's why you need to change that:
Your video's thumbnail is its ad.
It's the most important element in charge of getting people to click and watch your video.
If it doesn't grab your target audience's attention, you're guaranteed to get fewer views. If that's not enough to convince you, here's what the YouTube Creator Academy has to say about the importance of thumbnails and its role in driving more views:
"90% of the best-performing videos on YouTube have custom thumbnails"
To be clear: I'm not advocating for click bait.
I too have been fooled by promising thumbnails (and discovered the cat wasn't really the size of an elephant 😢), so definitely not clickbait.
However, you need to grab your target audience's attention and there's a variety of thumbnail styles you can use to do that.
Side note: You don't have to be a designer or hire one, free tools like Canva (they have some pretty awesome templates here) can help you create beautiful thumbnails all on your own and in a matter of minutes. Here's a sneak peek at GetUplift's Canva dashboard and how they create YouTube thumbnails using a simple template:
You can get someone on Fiverr to design thumbnails for you, however remember that these designers don't really know what gets clicks on YouTube, or know your audience so you'll need to provide very specific instructions on what you want.
5 simple tips to upgrading your YouTube Thumbnails
Use colors to stand out – The colors you use can be contrasting or complementary as long as they stand out. If you want to take it a step further, follow Talia's step by step guide for using color psychology
Use emotion – When designing your thumbnails consider your audience's emotional triggers and how the video will impact them. Emotions drive our decisions and you can include these emotions in your design to give people an idea of what they can expect.
Utilize curiosity – Some of the best videos are those which peek our curiosity, challenge our beliefs, or the way we do certain things. You can use your thumbnails to do exactly that. Think "You're cracking eggs incorrectly!" Aim to intrigue your viewer so they ask themselves: "Really? How?"
Design for clarity and real size – Although Youtube recommends creating a 1280 x 720 pixels (16:9 ratio) thumbnail, that's not the size viewers see it in. What looks clear to you at full size, likely isn't at the size it will be shown on YouTube. While designing your thumbnail, zoom out to preview it at a much smaller size, for example: On my desktop the thumbnail for recommended videos is just 168×94.
5. Limit the amount of text – f you use text in your thumbnail, make sure it's readable. I recommend using less than 6 words and if possible 3 or less to ensure it's easy to read when YouTube shows it at as a smaller size (like the example above). For example, you can clearly read the text on this thumbnail:
But it's almost impossible to read on this one:
3 Types of highly-clickable YouTube thumbnails
Facial expressions – This type of thumbnail can be used in almost any type of video by simply featuring a close-up image of a face (yours or someone who's featured in the video). The best performing ones include an expressive face, showing an emotion based on the video's content (e.g sadness, anger, surprise, joy) and copy that to increases curiosity. The reason this strategy works so well is because emotion and curiosity are a powerful combination. As Claude Hopkins, author of Scientific Advertising once wrote: "Curiosity is one of the strongest human incentives".
Charisma on Command uses this strategy regularly to grab people attention (and had almost 4 millions subscribers and over 338 million views).
Progressions or comparison – If your videos include a tutorial (how to perform certain actions), a comparison between one thing and another or a challenge to the way your audience performs certain actions, you could test this type of thumbnail.
Using a "before and after" visual, you simply feature a desired state vs. an undesired state. This type of thumbnail creates anticipation and a promise to take your viewer from their current state to where they want to be. For example:
Product-focused thumbnail – This type of thumbnail works really well for product-based videos. It's simple, but very effective. You can either:

Option 1: Feature a close up of the product with a facial expression
Option 2: Feature your product as the main focus (without a facial expression) and either give a clue to what they can expect to learn or trigger curiosity.
Case Study: How GetUplift increased their views on YouTube by 27%
Following my advice, GetUplift optimized one of the thumbnails on their YouTube channel and got an increase of 27% in CTR. Here's what the thumbnail looked like before:
The original thumbnail:
Included a lot of text that was too small to read as a thumbnail
Didn't do much to create curiosity or drive actionability
Didn't do a good job communicating the value of watching it
Following the advice above, Talia created this thumbnail:
The new thumbnail:
Shortened copy making it easier to read and clearly explained what you would gain from watching the video (increasing your revenue)
Leveraged curiosity by featuring a heatmap from the video and arrows highlighting certain areas in it
Used strong colors to highlight certain keywords and make the thumbnail stand out.
The results:
The average impression CTR for the video was 6% before changing the thumbnail.
After optimizing the thumbnail, the CTR jumped to 7.6%.
The CTR increased by 27% by changing the video's thumbnail.
In addition, the video also beat the previous record for the most views in one day.
Next, if I were to optimize this thumbnail even more, I'd suggest:
Increasing the size of the arrows so they're more visible, and
Adding a question mark around the arrows to increase curiosity
---
#2 How to write persuasive (and clickable) titles for your videos
Your titles work in tandem with your thumbnail.
Most often people make a quick intuitive decision by looking at the thumbnail and then, if it's appealing, they'll either click through or scan the title to make a final decision about watching the video or not.
Naturally this means that your video's title has a huge impact on whether it gets watched or not.
Human behavior is not the only factor we need to account for, there's also YouTube search results and if you want people to get to your video from YouTube or Google search, you'll need to create a relevant, keyword focused title.
YouTube titles guidelines to follow:
Strengthen your thumbnail's strategy to increase curiosity and clearly communicate the value of watching the video to the viewer before clicking through,
Tell YouTube what your video is about (your description does this in more detail as I'll explain below). There are exceptions to this, where point #1 is your one and only priority but if you want to appear in YouTube's search results, you'll want to use the words your audience is searching for.
5 Ways to Boost CTR and Ranking in YouTube's Search Results
#1: Use fewer characters in your title
Your title will get cut off once you hit 55 characters (on both the home screen and the right-hand side bar of suggested videos). As explained by Briggsby: "Shorter titles tend to perform best, with performance getting incrementally worse beyond 50+ characters".
For best results use up to 55 characters in your title, however if you're unable to keep it at that character count, make sure the most important keywords are shown in those first 55 characters.
#2 Include a target keyword
Make sure your video titles include the keyword your target audience would use to search on YouTube or Google around your topic (more on this below).
#3 Validate your headline
There are some great tools that can help you craft a high-converting title for your video (I use Coschedule's headline analyzer and there are many others). These tools are great for testing a few of your headline ideas and increasing creativity.
However, remember that these tools aren't set in stone, so use them as a helpful tool and not guidelines.
#4 Consider using emojis in your titles
If it works with your brand personality, emojis are a great way to stand out in that crowded space and get some attention on your videos.
#5 Curiosity. Emotion. Value
Similar to your thumbnails, curiosity, emotion and leading with the value are the 3 key elements of success with your titles.
When you lead with the value people receive, and strengthen it with emotional triggers and curiosity, you have a high-converting video that drives impressions.
Remember this thumbnail?
Its custom thumbnail, is paired with an engaging title: 'How I Tricked My Brain To Like Doing Hard Things'
The reason this works so well is because it creates curiosity ("I wonder what this trick is and if I could do it") and highlights the value of being able to do hard things you may never have considered you could do.
The 6-step process for writing a highly-clickable YouTube video title
Rather than giving you a template that would restrict your creativity (and most likely send you down the path of similar titles for all your videos), I've broken down the exact process you can use to create video titles that stand out, create curiosity and highlight value:
Step #1 – Brainstorm keywords – The first step is determining what keywords your audience is using to search for videos on YouTube. The correct way to start is by actually creating video content around what your audience is searching for, that way you ensure you're creating content people want and need.

A great way to discover what your audience is searching for is via Google Trends (more on this below when I explain how to come up with video ideas your audience wants).
Step #2 – Determine their value – What's in it for them? Probably the most important question in marketing and should lead everything you do. Write down the value and benefits your viewer will receive from watching the video, we'll use this in our next step
Step #3 – Start writing – Write your title variations according to step 1 and step 2. Make sure to write at least 10 different title you can use (the more the better). At this stage, don't need to worry about length, just write whatever comes to mind. You can use this funny generator by Portent to get creative ideas.
Step #4 – Edit your title – Now shorten your titles to a maximum of 55 characters long, or edit them so the most important keywords and phrases appear in the first 55 characters.
Step #5 – Score them – Grab those headlines you've written and paste them into a headline analyzer tool (e.g – Coschedule).
Step #6 Choose the winner – Lastly, choose the final title you're going to go with according to the results and your instinct. Don't forget that you can always test your other title variations in your email subject lines later.
YouTube Title worksheet
Grab the worksheet I use to write high-converting YouTube video titles
I use this worksheet to figure out a title that complements the video's thumbnail, focuses on the value of the video for the viewer AND which title will work best and tell YouTube what my video is about.
I filled in the example above for the video: How to Tie a Superior Bow Tie.
Side-note: You can see how I got this video to over 440,000 views on a brand new channel with no existing audience over here.
The worksheet above helps keep the title short, actionable and gives you a way to compare them against each other. Meaning, you don't have to go with the highest scored title in the analyzer you're using.
Remember the heatmap video that got a 27% increase in CTR? The headline analyzer tool gave Getuplift's original headline a score of 65:
And a 75 score for the title → Heatmaps: How to increase conversions with heatmaps
In the end Talia opted for: Heatmaps: How to increase conversions with heatmaps (a 6-step process).
It got a lower score but it worked well in terms of actionability.
---
#3 How to write YouTube descriptions that help your videos rank higher (and help viewers)
Similar to thumbnails, video descriptions are often an afterthought.
Sure, there are videos with millions of views that barely have a description out there, that can happen… but that's not standard.
To give your video the best chance of ranking high, showing up in people's search and getting more views on YouTube, I recommend taking a few minutes to write a description for each of your videos.
There are three parts to writing your description:
The preview description
The main description
The promotion
#1 The preview description
The first sentence (and sometimes even the two) of your description is shown in YouTube's search results on desktops and laptops (remember those types of devices? People still use them to get work done 😉).
Here's an example of what that looks like in the search results:
Use the first sentence of your description to continue the promise of your title and thumbnail giving potential viewers more details on what they can expect.
You have 120 characters before the description gets cut, so here's what you want to include:
The main keyword of the video
The WHY – what's in it for them? Why they should watch.
Here's what that looks like in practice:
#2 The main video description
This is where you get into more detail and explain exactly what the video is about and there are a few important elements to include in your description:
Use the right keywords – People often read a video's description to get a quick overview of what you cover in it, or because they've watched a part of your video and are looking for further information (e.g – "did I miss anything in the video" or "where can I find out more on this specific topic").

Make sure to include all the words and phrases that detail the topic of your video and what you cover in it to help YouTube understand what your video is about.

Link to related topics – Make sure to include links to one or two other videos in your channel on related topics. Doing this helps your viewers take the next step if they want to find out what's next or what else they can watch on the subject AND it helps create a data relationship between this video and another related video.

As a result, YouTube may take this into account when they recommend the video your viewer should watch next.
You can also include a link to a specific article or page on your website that is related to the video's specific topic.

Include timestamps in your description – Timestamps are links to specific parts of your video. For example: "At 03:27 you can find out about X and at 07:06 I cover info about Y"…

To create a timestamp, simply write minutes and seconds as mm:ss, so 03:27 is 3 minutes 27 seconds, this way viewers can click on the timestamp and immediately jump to that part of the video (when you save your description the mm:ss format will automatically turn into clickable timestamps).

In addition, YouTube has a feature called Chapters that turns your timestamps into video sections, so viewers can actually see them and click on them directly in the video player: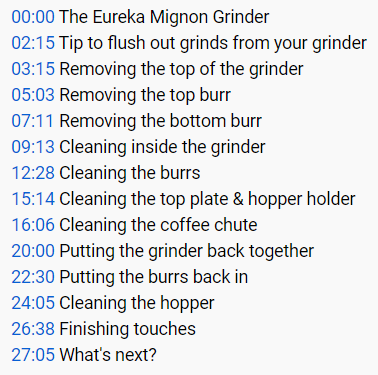 #3 The promotion description
In this final part of the description, you get to promote yourself.
Here's what you want to include:
A link to your website
Links to your other social channels
Ask your viewer to comment
Ask your viewer to subscribe
Before you hit save:
Just before I wrap up the description, I like to run it through Google's Natural Language Processing tool to make sure that YouTube recognizes the topic of the video from the description alone.
To do this, simply copy your description and paste it into the 'Natural Language API demo' box and click Analyze. Then, check the 'Entities' tab to see if the main topic of your video is reflected in there (the terms are ranked by their perceived importance → Salience).
Here's an example from a video about a coffee grinder:
You can see the terms and their importance make sense – it's clearly about coffee and a grinder. It picks out the model (Mignon Specialita) and brand (Eureka). Side note: It tags them incorrectly but that's not something you need to worry about.
Next, check the 'Categories' tab to see if the correct category of your video is reflected there:
As you can see, it shows as 'Small Kitchen Appliance' and 'Coffee & Tea', which is as relevant as you're going to get for a video about a coffee grinder.
Once you've checked all this, you can click save and you have yourself a description that hits all the important marks!
---
The easiest (and quickest) way to get more views on YouTube videos is to get the people who are already watching, to keep watching your next videos.
You know what I'm talking about, it happens to all of us… that moment where you hit play on an 11 min video to learn the 3 rules for better sleep and find yourself 45 minutes later watching a Ted talk by Matt Walker on how Sleep is our superpower. Right? I know that's not just me.
This kind of rabbit hole scenario increases your channel views and tells YouTube's algorithm that people value your content and find it relevant enough to keep watching more of your videos. This results in YouTube being far more likely to suggest your videos to that person in the future (and even other people with similar interests).
Plus, you create data relationships between your videos that help YouTube decide if they should show other videos from your channel to viewers and which ones to suggest.
Use these 3 features to get more views on Youtube
#1 Utilize end screens
With End Screens you can suggest what video your viewer should watch next from your own channel (not using this feature is essentially sending people to watch other videos than your own). Here's an example from James Hoffman's channel:
I like to add two video recommendations and a subscription button at the end of each video I create (similar to the example above).
For the first recommendation, I choose a specific video from my channel that has a direct connection with the one they just watched. For example, if you watch Talia's video "Top Google Tag Manager tips", you'll get a recommendation for the video "The most Important Google Analytics Reports You Should Track".
For the second recommendation, I usually set it as a 'Best for viewer' type of recommendation. This allows YouTube to suggest a video it thinks would best suite the individual viewer.
Here's how to add end screens:
Go to your YouTube studio account.
Select the video you want to add end screens to.
Click 'End screen' on the right of the description.
Click 'Element'
Select 'Video'
Then choose either 'Most recent upload', 'Best for viewer' or 'Choose specific video'.
Drag the element to the position you think looks good.
Follow the same steps again to add another element to your End Screen.
Click 'Save' and you're done!
The End Screen is only shows up during the last 20 seconds of your video.
To ensure more people see your recommendations, make sure to keep the end of your videos short and to the point (don't stretch them out). If you video drags out people will start dropping off, which means those who bounce won't get to see those recommendations.
#2 Add cards
Similar to End Screens, cards allow you to recommend other videos to your viewers but with cards you can do this at any point in the video.
For example, when you mention a specific topic during the video, you can show a notification with a link to another video on that specific topic.
It's almost exactly the same process as adding an end screen but this time, instead of clicking on End screen', click on 'Cards'.
Here's what a card looks like:
#3 Add pinned comments
Another way to get more views of your other videos is by using a pinned comment. When you pin a comment it appears first, so anyone who looks at your comments will see it.
All you need to do is comment on your video with a link to one of your other videos.
To pin a comment:
Go to the video in your YouTube Studio.
Click on comments.
Go to the comment you want to pin and click on the 3 dots.
Click on 'Pin'
This is what it will end up looking like on your video:
---
#5 Take advantage of your existing audiences on other channels
Sometimes we get so caught up in new tactics, strategies and "hacks" that we forget to utilize one of the most basic (and successful) strategies of all: Driving your existing audience from other channels to your videos.
Option #1: Leverage email marketing
Productled sends regular emails to their subscribers telling them about new videos they have:
The cool thing about this approach is that you don't have to wait until you produce a new video, simply choose one of your most top performing videos, write an email about it today and invite people to watch it on your channel.
Pro tip: if you have a welcome sequence you could even add your most top suggested videos to it as one of your emails.
Option #2: Leverage Google Ads Remarketing
If you have a small budget and want to drive even more views to your YouTube videos, you could use Remarketing. Remarketing (AKA- those ads that follow you around the internet) is a quick way to get more eyeballs on your content.
The approach is simple: Promote your best (or latest) YouTube videos to people who have visited your website.
What you'll need:
A Google Ads account
A remarketing list with over 1,000 members.
A connection between Google Ads and YouTube (See how to do that here)
To clarify, I'm not referring to the YouTube ads you see just before a video starts (these are 'In-stream' ads).
There's a relatively unobtrusive way to promote your YouTube videos: The Video Discovery ad format. With this ad type, you can simply 'suggest' your video alongside others, like this:
Why does this tactic work so well?
Because:"Familiarity breeds business", as Harry Beckwith explains in his book 'Selling the Invisible'.
When you become more familiar with your existing audience, you can sell more, especially if you're helping them learn or achieve something.
To get started with your YouTube Ads Remarketing campaign, check out this free guide I created for you here.
With this set up and running, you'll leverage your existing audience to grow your channel through people who already know you.
The good thing about this ad approach is that it can hit almost ALL of the audience who knows you, so if some of your readers don't open your emails or click through, they'll still see them on YouTube itself (in a non intrusive way).
---
#6 How to leverage your top videos to drive more views
To discover your top videos use YouTube Studio's data to discover:
Which videos are getting the most views in the last 30 days
Which video stands out
Which video is doing better than others according to engagement, views and retention
And so much more.
To get more views on YouTube, you have to make more videos like your top performing ones.
For example, a while ago I looked for the top performing video in the last 30 days on my coffee channel (yes, I have a coffee channel as well as running Adzoola):
The one with the most views on YouTube was a simple unboxing video of a coffee grinder.
I started thinking about other videos I could create around the same model of grinder and recalled having a hard time finding answers to questions about cleaning it. A quick search showed that other videos on this topic weren't covering it in enough detail, so I created a video about it. The results? The new video is now getting more views than the previous top performer.
This kind of process ensures that every video you create is around your audience's interest and that you keep creating valuable content for your viewers.
Your video's topic will be the key factor to determine if people watch it or not and the more content you create around a certain topic your audience likes and searches for, the more views you'll get.
---
#7 How to analyze your underperforming videos
Step 1: Start by searching YouTube for the topic of one of your struggling videos and locate a few other videos on the same topic as yours.
Step 2: Check: How many views do those videos have (taking into account the time they've been live)?
You can compare them with yours by summing up the Views / Days (since the video was posted) to get a rough 'average views per day' number.
If you have roughly the same amount of views as your competitors: You may not have a "not enough views" issue, but a topic issue. Next step: Find a new topic (more on how to do this below) and repeat step #1 before creating a new video for it.
If those videos have many more views than you there are three possible reasons for this:
Your video may not be as good as other videos out there on the exact same topic, consider going back to the drawing table, doing some new research (finding missing content, questions unanswered) and creating a better video on the same topic (check out this guide to creating killer YouTube intros, so you can improve those videos).

Your video is under-performing. Go back and check all my suggestions above in this post. You can also try my Slingshot Technique for getting more views on YouTube (I used this method to get over 400,000 views on the bow tie video I mentioned earlier, the channel had no views or subscribers at the time).

The final reason your video isn't getting many views on YouTube (while others are) is channel authority. If the channels you're competing against have a large existing audience, on or off YouTube, you often won't be able to get the same number of views they do. This doesn't mean you should give up, it just means you have to put in the time to build up your audience and pick additional topics where there's less competition.
Follow this simple flow chart I created:
---
#8 Fast ways to get youtube topic ideas your audience craves
There are 4 simple ways I go about uncovering the kind of videos my audience wants to watch and come up with content ideas, you can use these yourself to ensure you're creating videos people want and need:
#1 Survey your audience:
Ask your existing audience what topics they want you to cover in your next video. You can do this by emailing them, send out a tweet, posting the question on Facebook, LinkedIn, or Instagram and one of my personal favorites: Ask the people who comment on your videos.

#2 Leverage the power of Reddit:
Find relevant Subreddits your audience care about (there's a subreddit for everything), and identify the topics that get most engagement in them. After spending around 2 minutes in a coffee-related subreddit I discovered this post:
In just one day, it had 209 upvotes and 140 comments, clearly this is a topic that my audience cares about.
Next step, I searched YouTube for 'espresso machines under 250' and discovered a few videos on this topic with many views. This meant that it was worth taking the time to create a video on the topic too, perhaps even several videos around different price points.
#3 Use YouTube search's autocomplete suggestions for ideas
For example, while I started searching YouTube for 'espresso machines under 250', YouTube auto-completed with these suggestions (a great source of ideas for videos):
#4 Check out the videos your target audience is already watching (e.g your competitors' videos) and check out the 'Up next' section (right hand side on desktop and below the video on a mobile) to see what YouTube suggests you watch next:
YouTube's suggested videos are based on a variety of factors: Your personal watch history, channels you subscribe to, topics you've shown an interest in, and videos related to the video you're currently watching. Using this feature in incognito mode, can easily uncover topic ideas.
Using Adzoola I looked up the related suggestions for the 3 videos I found in my YouTube search for "espresso machine under 250" query. Below are just 3 out 150 videos YouTube thinks are related to them. All 3 are great related ideas for topics with a respectable number of views.
---
#9 How to create a YouTube Content Roadmap to Keep You on Track
So you have a long list of videos you want (and need to create), now what?
If you don't follow a careful roadmap and strategy, you'll end up with a lovely list but not much to show for it… You may even end up adding topics to your list that don't speak to your target audience, just for the sake of chasing more views.
Since you want to make sure you're attracting the right kind of audience to your videos, it's important to take a step back from all the tactics, and think strategically.
Yes, you need to create a content strategy.
This strategy needs to take a lot into account: Your business, the people you're serving and want to help, the products or services you're offering and much more. Your goal is to break it down into topics that make sense(and create value) to your viewer.
Let's use GetUplift as an example. GetUplift offers Conversion Rate Optimization services, but CRO covers a variety of topic areas… Drawing the topics out in a mind map can help you stay focused on the topics that lead back to how you can help people. Here's an example of what that might look like for GetUplift:
Creating this kind of visual ensures you have a well-defined content map you can use as the base for all your content ideas. Not just YouTube!
---
Over to you
The "build it and they will come" approach has passed from this world. If you want to drive more views on YouTube videos, get more engagement and click through rates, you have to invest in the distribution of your videos just as much as you invest in their creating (if not more).
Each of these tested and proven steps are designed to give you quick, easy-to-execute tactics you can leverage in just minutes a day. My advice is to choose one per week and test it out. Some of these (the email marketing tip for example) can be automated, so once you've set them up, they're done forever, promoting your videos.
About the Author:
As an unusual combination of introvert and marketer, Alex King is founder of Adzoola.
He's a voracious learner and has spent the last 12 years helping businesses across their digital marketing, specialising in Google Ads.
He delights in seeing people get results from his advice, which is why he writes posts like these. He welcomes you to share any results you get from his work.
In his spare time he likes to read non-fiction (a lot of marketing books) and enjoys being a home barista and seeking out coffees from around the world.
Facebook Comments
comments
Powered by Facebook Comments