When I started using Snapchat I didn't intend for it to be a marketing channel. I was still using it for taking adorable photos of my dog 'Loki' when I started getting requests for conversion optimization tips from people. At first it was 1 or 2 people a week, however 35 days later I get 5-10 questions a day and I've been using Snapchat to answer people's questions, give short optimization and AB testing guides and have ongoing discussions with marketers all over the world. During these 35 days I've seen over and over again that there are 3 snapchat marketing rules you need to follow to grow your followers base, engagement and conversions.
Since I've started using Snapchat I've gained about 100 followers per week, got 30 direct signups to Banana Splash and 3 new customers. Another cool thing that happened is I got approached by a VC wanting more information about our startup and my work.
Where were you when Snapchat took over?
With over 100 million daily active users, 400 million snaps taken a day and 7 billion video views per day Snapchat's is quickly becoming a must have marketing channel for all brands. The people who use snapchat the most are the millennials which is why it is no surprise that marketers aiming at this market are already way ahead of the game (or trying to be).
After following some pretty amazing people on Snapchat (whom I will recommend below) and optimizing my own snaps according to my statistics, I have found there are 3 rule you must follow to be successful on Snapchat and gain more followers.
The Snapchat Marketing Rules
Cut to the chase – get to the point and cut out the noise. The reason Snapchat works so well is that it is quick, immediate and productive. In our ADD world most of us don't have the time to read articles or spend time fishing out the gems in each article that matter to us specifically. Being able to just walk and listen to snaps as if they were a short podcast with quick powerful messages and tips is time saving and productive. I follow a bunch of growth and marketing experts on Snapchat and have quickly stopped watching those that fail to understand this crucial point.
Provide valuable content – Like every aspect of marketing, people demand quality and value. Don't snap for the sake of snapping, understand your audience and provide them with the content they need. With Snapchat it's easy – simply ask people what they want to hear about from you and deliver. Once you provide value the people who follow you will immediately recommend you, promote you and write about you. Most of my followers were gained by other snappers (listed below) who enjoy my content and tell their followers to follow me.
Do NOT self promote – this is an extension to the previous point. Don't get on snapchat and start selling yourself. However once you provide value, add a call to action. Yes, like any other media snapchat listeners need a call to action – what do you want them to do? Remember that with 7 billion video views a day, that's a lot of competition you're facing so don't expect people to follow, engage, ask questions, respond or recommend you if you don't ask them to (at the right time!).
Here's some of the content I've been providing on Snapchat:
Psychological strategies for gaining more email marketing subscribers
Mobile landing page optimization
Mobile checkout tips
Cognitive biases – Different biases that affect our decision making process.
Conversion optimization tools every marketer should use
Growth and Marketing Experts you Should Follow: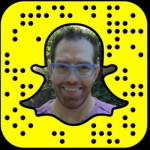 Morganb180 – Morgan was one of the first growth marketing experts I started following after he tweeted his snap code. He is the master behind GrowthHackers and many other successful platforms. He provides brilliant tips on growth and productivity, delivers incredible value every day and brilliant examples to really drive the point.
Msuster – Mark Suster is one of the most well known VC's out there and is probably the most interesting snappers I've heard of. Mark provides brilliant content EVERY entrepreneur should follow. From advice on how to raise capital, how to hire employees and how to work with your co-founders, Mark provides my daily inspiration and reminds us all the we're all in the same boat – we're not alone and we can do it. Thanks Mark!
Taliagw – Yep, that's me.  If you'd like some daily tips and suggestions on conversion optimization, AB testing, Mobile optimization, growth marketing and photos of my dog Loki add me. don't forget to snap me with your questions, comments and anything you'd like me to talk about.
JustinKan – When he's not out partying or at his new ranch Justin talks about the startup scene offering entrepreneurs amazing advice on running their startups, hiring and firing, raising capital, negotiations and much more. As a Y-Combinator partner Justin introduces their startups and has already taken his followers on several demo days and given advice on presentations.
Mike_Mcgrail – Other than his cool accent Mike also provides awesome tips on marketing. Mike has is own marketing agency and talks a lot about his experiences and provides some tips on Facebook ads, growth, speaking and self promotion. He also has a cool podcast interviewing different marketers and growth experts so go follow him.
Hilzfuld – Hillel is a well known guy in the Israeli tech scene – working with many startups and advising them Hillel provides some great spotlights on new startups, new technology and a lot of ranting while driving (those are my favorite ones). Hillel keeps it real and tells it as it is. If you're interested in new developments in the tech scene and food recipes Hillel's the guy for you.
AleydaSolis – My favorite SEO expert providing daily tips on SEO & Content. Aleyda is a well known speaker in the SEO industry who travels the world speaking at different conferences and helping many businesses grow their organic traffic. Check her out if you'd like see the world through her eyes, gain some valuable tips on SEO and see Madrid for all its beauty.
Anumm – Anum Hussain is a senior growth marketer at HubSpot, Co-Author of Twitter for Dummies and a Harry Potter fan! She's been doing some awesome stuff over at Hubspot and speaking about it all over the world. We recently even got a chance to see Sri Lanka through her snaps. You should definitely follow her.
Snufka_86 – Marina is a marketer who recently founded her own growth agency ToGrowth.me. After years of marketing in house for many companies she is finally building her own brand and business and is taking us on the ride with her. Check out her snaps for some daily inspiration, rants and general comments on her new business and goals.
Do you have any Snapchat marketing rules to share? or people we should follow?
Facebook Comments
comments
Powered by Facebook Comments